Welding & Metal Fabrication

Industrial Pallets
Metal Art
Safety guards
Mezzanines
Industrial racks and carts
Toolboxes, chipper repair

Hand Rail Systems

Weld Tech fabricates custom architectural, residential, and commercial hand rails, work platforms and mezzanines. For the past 15 years, we have produced thousands of linear feet of custom rails and take pride in every foot we produce.

Industrial Heat Shields

Weld Tech specializes in ceramic fiber and or refractory lined heat shields used mostly in the steel industry. We fabricate furnace doors, tundish covers, runner covers and many other products that require ceramic fibers or refractory.

Tap Hole Drill Guides

Weld Tech also produces Tap Hole Drill guides for regional steel mills. Most designs include a metal base plate with a refractory layer to protect from super-heated molten metals. These drill guides are consumable/throwaway parts and...

Industrial Ductwork

We offer Industrial ductwork and stack fabrication from 6"-120" diameter per customer specifications in aluminum, mild steel and stainless steel alloys. 16 Ga. – ½" + thick duct with rolled angle or CNC burnout flanges.

Valve and Damper Repair

We will rebuild or replace the entire valve and in some cases, re-engineer the damper to perform better than the original. Once we inspect the damper, we will make suggestions on how to get more life out of the damper and reduce down time.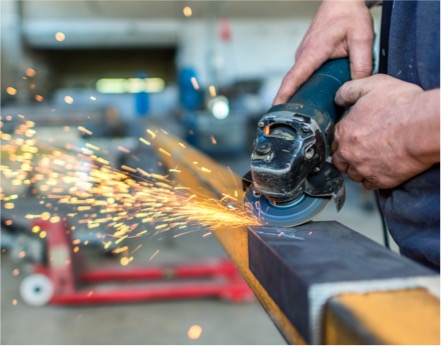 About Weld Tech
Custom Welding and Metal Fabrication
Weld Tech, LLc. est. 2014 started as a sole proprietorship in 1992, performing repair and fabrication services to local agriculture and arbor businesses. Since then, Weld Tech, LLc has evolved into a metal manufacturing and fabrication job shop offering machining, welding and fabrications of numerous products. Among the products are fabricated handrail, heatshields and drill plates for various steel mills, tree service equipment repair, and CNC plasma cutting, have become key in the growth of …Read More
Industries and Clients Served


Cedar Point (Amusement Park)
Lakeway Mfg. (Steel Industry)
Leimeister Tree and Crane (Crane Material Handling)
Prodigal Construction
Aero Corporation
R&D Equipment
Buyington/LEWS Construction
Green Tech Ohio, LLC